MEC Championship January 14-18th, 2020
Pro Am: Tuesday & Wednesday January 14-15th
PGA Tournament: Thursday, Friday and Saturday January 16, 17, and 18th
Please Note Format
CLOSED COURSE / NO SPECTATORS
for Pro-Am Dates
(Volunteers needed for Marshals on these 2 days is a very limited number; all other positions will be filled as usual)
SATURDAY FINISH FOR TOURNAMENT Full Volunteer numbers including on course Marshal Volunteers will be needed for the Tournament Days.
Aloha From your 2020 Volunteer Chairs – Kris Hazard and Larry Webb
Welcome Volunteers!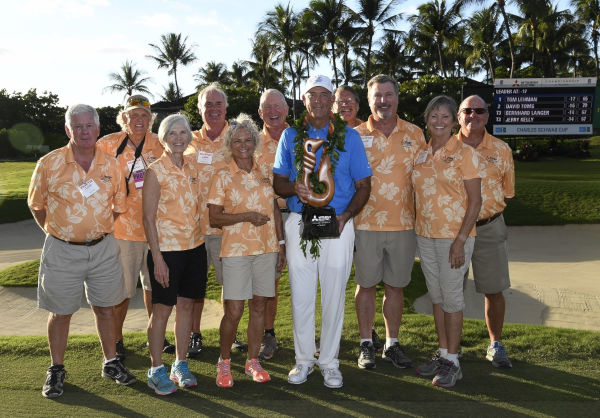 We need Volunteers for all areas of The Mitsubishi Championship at Hualalai. By volunteering, you not only help make this PGA opening tournament a success for players and spectators, you also assist the Rotary Club of Kona in helping the community become an even better place to live. If you like golf, fun and meeting new people please come join us. It is a great way to get involved and meet other people with similar interests on our beautiful Island of Hawaii. Our Mahalo party is the week following the tournament. Details to follow.
As the "Rock Stars" of the Volunteer Core, Volunteers at this event have earned kudos as some of the best Volunteers on the PGA tour.
To Register: Please click on the Blue Registration Button Below and fill out all the required fields. The form will ask for areas that you would like to volunteer to assist, and what days and times you are willing to work. Lunch is provided daily, along with hydration while you are out on the course. For the morning crews we have coffee and pastries.
After reviewing for accuracy, please click the submit button. You will receive a confirmation of your registration request. Please review, if changes needed simply re-register. We will use the most recent registration received.
If you are new, we will have training and be available to help you with questions about your duties and protocol. If you are returning, we may have new training as things change each year. As always, we are here to help your volunteer experience be one that you will enjoy .
Special Note regarding UNIFORMS. New Volunteers, your shirt sizes and order will be on the registration form. We are using the fabulous Orange Crush Volunteer Shirts for 2020. Returning Volunteers may use your shirt from last year unless you wish to order a new one. Pants are either Kahaki or Black. Golf appropriate length required. Head gear, only approved PGA hats and visors on course. We are not changing the style or color of those from last year.
With Aloha and our Sincere Mahalo
Larry Webb and Kris Hazard
Volunteer Co-Chairs
Volunteer Registration for January 2020 is
CLOSED
The Management Philosophy